When life gets boring... buy a kettle corn business!  Yes, that's what my husband, Randy, and I did just over a month ago.  It's been an exciting (and busy) few weeks!  Luckily we had some great trainers in the previous owners, Vicky and Dan, and have been off to a great start!  So far we've made appearances at four different farmers markets!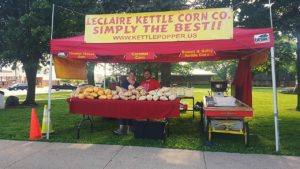 We had a great first weekend at the The Farmhouse Market Spring Barn Show in Tipton, IA.  So much cute stuff for sale!  (Yes, I may have brought a few new things home with me...)  We can't wait to go back for the Fall Barn Show!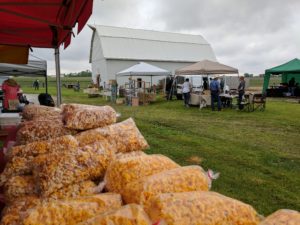 Last Friday night was our first time at the Mercado on Fifth.  Such a fun market with live music, food trucks, activities for kids, and Bent River Brewing Company!  The theme for the night was "Mercado goes pink" for breast cancer awareness.  We tested out some pink popcorn, and raised a little bit of money for Susan G. Komen.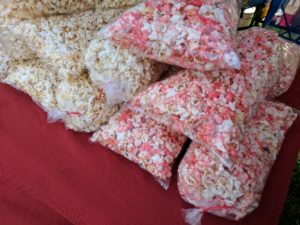 We had another big day out this past Saturday at the Annual Flea/Antique Market with Reclaimed Salvage and Songbird Lane Antiques in Cambridge, IL.  We got to set up next to an Airstream full of boots!  In you're in need of new boots check out No Roots Boots!  I think maybe we need to swap out our trailer for an Airstream... but Randy says no.  My mom and sister stopped by to help out for awhile, too.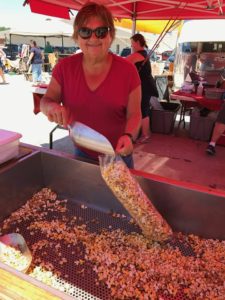 Tonight I got to chat with a friend about getting popcorn for her daughter's softball team!  She's going to put together a cup of the Windy City mix for each girl.  Here's a photo of my test run, but I'm sure they'll be much cuter when she get's done putting little tags on each one!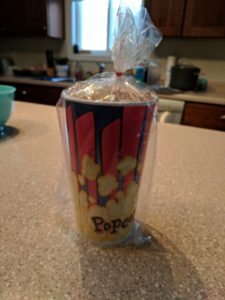 This week we'll be at the Maquoketa Farmers Market on Tuesday and DeWitt Farmers Market on Thursday!  Hope to see you there!
-Kelly